THE FOLLOWING SERVICES ARE ALSO PROVIDED IN VARIOUS TRADES:
1. RPL ASSESSMENTS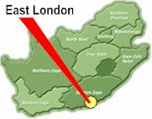 2. PRE TRADE TEST TRAINING
3. APPRENTICESHIP TRAINING
Border-kei Training Trust Micro Projects Division has conducted many entrepreneurial empowerment courses since 1997.
These are aimed at providing sustanable solutions to the global problems of poverty and unemployment. A wide variety of
courses are offered, including Business Management Skills, Building, Food and Clothing Production, amongst others. In line with our Government's policy of taking training to the people, Border-Kei Training Trust provides on-site training to the rural communities of the Eastern Cape. We have mobile units which can facilitate training even in the most remote parts of the coutry. These units are self-contained, with classroom facilities and overheard projectors and can be set up in rural areas to empower communities. The ultimate objective of Border-Kei Training Trust is to create individualised skills development programmes for all learners, providing the qualifications for them to find suitable employment and the opportunity for them to return for advanced skills training to further their chosen careers.
On the Building and Civils side, its CETA-accredited NQF and CBMT construction training is extensive. Skills involved in this category include:
Bricklaying and Plastering, Blocklaying and Plastering, Bricklaying and Blocklaying, Carpentry, Joinery, Plumb­ing and Painting & Decorating and Roofing.

BTC is accredited with the following bodies